The SMARTdesks Quark, a computer
conference table for Telepresence,
Teleconferencing,
Video Conferencing and Collaboration.
2014 is here, and as we progress into the second decade of the 21st century, computer desk designs continue to changing quickly with technology innovation and office design trends. The modern computer desk must adapt to an increasingly collaborative environment and one that favors over cubicles. Desktop computer use is on the decline as mobile device usage
increases
steadily.
Creative work environments
improve productivity and foster innovation.
Within contemporary educational and office spaces, SMARTdesks strives to innovate and design creative and modern computer desks.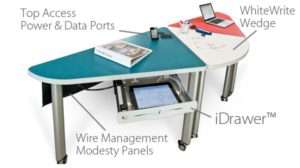 Check out how some offices around the world have implemented their ideas of the modern computer desk
here
, including workstations from Google, Skype, and Twitter, among many others. Apple has even patented a
'desk-free' computer
that operates on laser-powered projection, eliminating the need for a monitor on the desktop. And here's a list in pictures of office trends that are on the way out in the next ten years according to 
HuffPost.
In your opinion…
What do you think are the most important features of the modern computer desk?