Collaboration in the workplace not only allows companies to provide their consumers with the best solutions, but it helps employees stay on task and stay motivated. When looking to start a new business or revamp an existing business, executives should consider adopting a collaborative model. As this article from TechRadar aptly expresses, the prevalence of social media, mobile technology, and an international information-based economy have developed, so too has a greater need for collaboration in the global marketplace.
Why you need it…
Increased Innovation
Through collaboration, employees bring together expertise and experience to develop the best solutions for customers. Working on a team employees utilize their own unique strengths and abilities that go beyond their job descriptions and allows for greater creative input. According to this Crain's New York Business article, open offices even spur employees to set more ambitious goals in the workplace.
Better Rapport
While a job may be a 9 a.m. – 5 p.m. commitment, to truly encourage commitment and success within a company, the members of each team need to know each other. The standard cube-style office approach encourages employees to be closed off from one another. By encouraging a collaborative workspace, it allows employees to get to know each other on a deeper level. Employees can open up and feel at-ease when expressing new business ideas. Google is following (or perhaps even setting!) this trend with their new GoogleDocs features, and increased storage in the cloud, which allows collaborators to share and edit their work together even when they are a world apart from one another.
How to achieve it…

SmartDesks is currently running a limited time sweepstakes to win a set of 6 igroup tables to help businesses promote collaboration.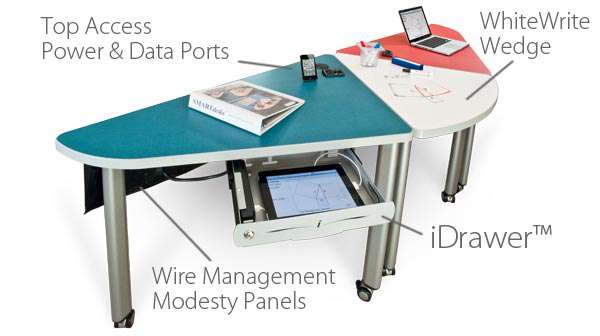 The iGroup is known as the "origami of interaction" because the tables are flexible in formation – you can create hexagon, pinwheel, star, wave, and abstract shapes among many other options. The iGroup is ideal for both the workplace and educational institutions.


The value of this prize is $5,000!
Entries will be accepted until 7/30/14, 12pm EST.
One entry per person, please.
The winner will be notified via email on 7/31/14.
If winner does not respond via email within 48 hours, a new winner will be notified. (Watch your email & check junk mail.)
For more information: Visit the official sweepstakes page.