Results from a 2013 Gallup study provided a surprising (and rather dismal) statistic: of 25 million workers polled, only 30% were actively engaged in their work, and the other 70% fell short of their productivity potential. According to the same study, employees who are engaged in their work are enthusiastic, committed participants in their company whose creativity generates new ideas, attracts customers, and contributes positively to their organization as a whole.
This chart from the Gallup poll shows that since 2000, employee engagement levels across the US have barely changed.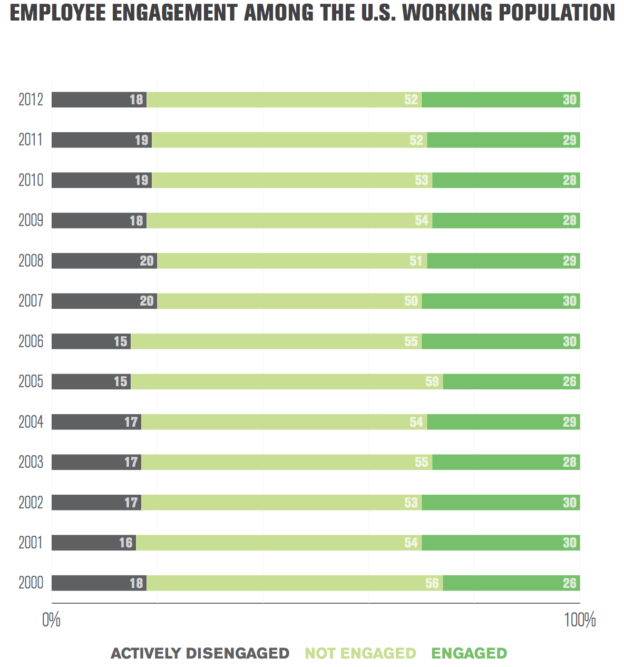 So, what is to be done?
Assuming that employee engagement levels are tied to feelings of (1) personal satisfaction, (2) balance, and (3) enthusiasm in their companies, it makes sense to examine how spatial design can improve these three aspects of their working lives.
(1) Personal Satisfaction
Easy-to-work-in office settings are crucial to a developing a sense of personal satisfaction among employees. The instant-gratification of younger office workers can see one another and easily interact, the same way they do with the instant technology-based communication that they use in their daily lives.
(2) Balance
Environments that foster interaction among employees — whether friendly or professional — are likely to improve company morale and willingness to work. A physically balanced space in the office can guide employees to a sense of psychological balance in their own lives. According to this blog post from WorkDesign magazine, breaking down walls in the office in favor of open architecture can drastically improve employee performance and productivity. Removing barriers between office also removes barriers between employees and enables them to connect on a personal level.
(3) Enthusiasm
Spatial design, coupled with charismatic leadership, boosts employee engagement tremendously. Settings that offer the possibility for both individual and group work, as well as welcoming meeting spaces, build community and camaraderie in the workplace. Flexible furniture offers the option to work individually or in groups – employees have control over their workspace, whether they're problem solving on their own or as a team.
And not to be forgotten…company management / leaders also play a key role in defining workplace engagement (see this Huffpost blog).
Did you know? "Employee engagement" is such a hot topic right now that it has its own Wikipedia page. It also has increased significantly in relevance in Google's search engines (based on a growing number of searches) according to the graphic below.