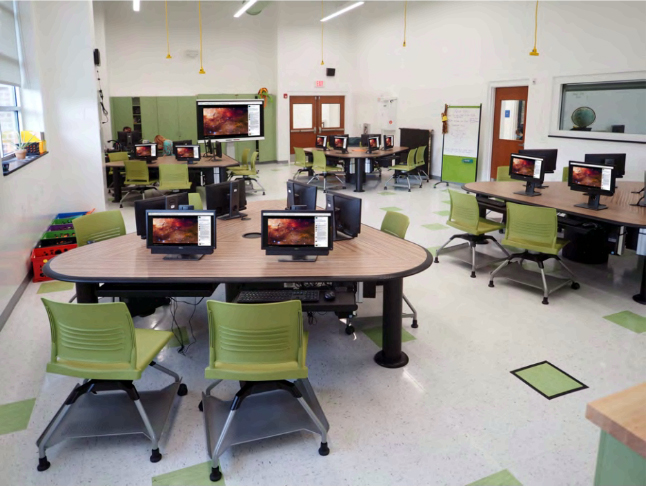 The ubiquitous technology of today – from televisions and computer monitors to tablets and smartphones – places design at the forefront of the user experience, with ever-slimmer and sleeker devices driving user engagement. From 2000 to 2018, the number of Americans using the Internet increased from 52% to 89%, according to the Pew Research Center. Of these Internet users, the largest demographic unsurprisingly fell between 18 to 29 years of age, with these trends showing no sign of slowing. As young people grow increasingly dependent on technology to communicate, process information, and navigate their lives, educational institutions face the challenge of integrating technology into not only curricula but also the spatial design of learning spaces to remain competitive and actively engage young talent.
Given these persistent societal trends, how can educators draw a classroom floor plan that addresses the integration of technology with the physical environment of their students? Developing a classroom layout that naturally supports the dynamic interplay of ideas between students and their instructors both accomplishes this goal and pushes the limits of a traditional classroom space into a conducive environment for active learning. As the rise of technology, problem-based, collaborative learning, and so called "flipped learning," have gained popularity in recent years, the general trend of classroom instruction in parallel has enabled the teacher to acting as learning guide rather than sole lecturer.
While a variety of factors, including socio-economic status, academic capability, and pedagogical methods impact learning process and outcomes, the role of classroom design cannot be overstated as a key component to achieve success in the 21st century classroom. For example, a recent study from Montana State University, showed that pass rates rose to 81 percent from 63 percent for math and to 86 percent from 65 percent for introductory statistics when students were placed in more active learning classrooms verses traditional lecture halls. In another study from the University of Minnesota, final grades of students in STEM classes were significantly higher in active learning environments than traditional environments.
While collaborative furniture is a cornerstone of a truly modern classroom, some enterprising teachers have been able to create collaborative learning environments without overhauling the existing furniture setups in their rooms. While these teachers did not benefit from brand-new furniture, they were able to rearrange the existing elements of their classrooms to best facilitate group work and movement among the students, while also improving the comfort of the room by adding pillows, plants, and lighting accents to their spaces.
"Tell me and I forget, teach me and I may remember, involve me and I learn" is a famous adage attributed to Benjamin Franklin, and an apt definition of active learning. While modern technology is a relatively recent addition to today's education system, active engagement and collaborative learning remain timeless tenets of learning that can be directly influenced by effective classroom design.