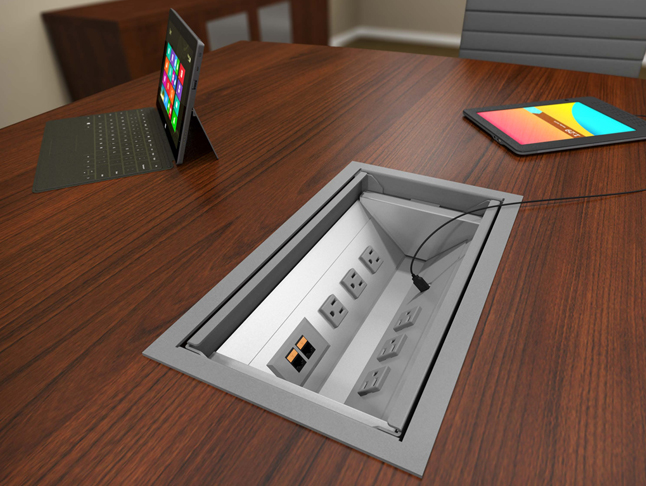 The majority of today's office work requires access to power and technology. Across every professional field today, we rely on our devices—and in turn the power/data centers that ensure we have access to essentials: the Internet, mobile device charging, laptop docking stations, video conferencing systems, and more.
While most workers have power strips at their desks, access to these resources in shared conference settings is equally important.
Conference tables
with built-in power/data centers ensure employees, vendors, and guests can stay connected while they're in the office—no matter where they're meeting.
SMARTdesks, founded in 1997, understands how critical it is to have access to customizable, smart, ergonomic
conference table technology
. Below, we'll share information about conference table power/data centers, including the features and options available to transform your meeting spaces.
What Is a Conference Table?
A conference table is a large table that is often located in a conference room or boardroom for the purpose of bringing people together to collaborate. The wide variety of types of conference table options are often categorized by size, shape, and the material it is made from.
Size: While 12-foot long conference tables are the most popular size, you can also readily find 8-foot or 10-foot tables.
Shape: Common conference table shapes include rectangular, u-shape, boat, round, keystone, modular, and triangular.
Material:Most conference tables are made from hardwood, veneer, glass, steel, stone, or PVC.
What are conference tables used for? Perhaps the most common use for a conference table is meetings—including those with internal or external stakeholders. However, today's conference tables are used for so much more than traditional meetings. With the advent of hybrid and virtual work, conference tables can easily be used for presentations, video conferencing, team training and development, and even flexible workspaces.
Regardless of the different ways you'll use your conference table, there is one thing you should be looking for: a conference room table with power and data capabilities. Power/data hubs ensure your conference table users have the tech access they need to work, brainstorm, collaborate, and innovate.
What Is a Conference Table Power/Data Center?
A conference table power/data center provides your conference table with customizable technology hub solutions. If you've ever wondered, "What is the thing in the middle of conference tables?," you've seen power/data centers at work. These hubs provide access to power outlets, ethernet ports, USB ports, HDMI cables, and more.
Power/data centers are critical for today's modern office employee who needs access to power and data outlets for their mobile devices. But, for high-end furniture like conference tables, we recognize that aesthetics and presentation are equally as important to make an impression on external and internal users. The options offered by SMARTdesks allow you to select the right modern conference table with data and power solutions for both style and usability. There are several options available.
SMARTdesks: Innovative Conference Table Solutions
Since 1997, SMARTdesks has been a leader in the field of technology furniture solutions. Our team understands the importance of conference tables—and the work that happens around them. We can collaborate with you to take your conference table from concept to reality, including choosing the best power/data center for your needs, designing a table that fits your room, and building it to your specifications.