What do you bring to a meeting around the conference table? If you're like most people, you probably have at least one device in tow, like a laptop, phone, or tablet. It's how you take notes, share ideas, or quickly access important documents.
And as hybrid meetings become more commonplace, the need for technology integration around conference tables is even more vital. If you don't have the tech in place to accommodate your remote workforce, you're missing out on the valuable knowledge they can bring to the table.
However, the number of conference table power centers and solutions out there can be overwhelming. Do you need a conference table power hub with HDMI connections? Or maybe a round conference table with power receptacles would be the best choice? Or do you prefer the look of a wood conference table with power outlets? 
Really, the route you choose comes down to the needs of your workforce, the space you have available, and your design tastes. To help you make the best decision for your organization, our team at SMARTdesks has compiled this handy guide to powering your conference table. Keep reading to discover the pool of options available to you and how they all work together.
Benefits of Conference Room Table With Power and Data
Have you ever tripped over someone's charger as it hangs precariously from the wall receptacle to the conference table? Or have you ever been forced to sit in an inconvenient spot because you need a wall outlet to charge your dying laptop?
These issues and so many more become a thing of the past with a conference table power center. Modern conference table technology integration can drastically change your organization for the better, as it allows you to:
– Plug in any device you might need for a meeting directly into the table.
– Connect audio and video equipment like televisions, monitors, and projectors to make presentations a breeze.
– Eliminate the tangled chaos of cords and cables cluttering up your workspace.
– Give a luxurious, sophisticated feel to your conference room for staff and customers to appreciate.
– Streamline meeting productivity with various connection and presentation options.
– Easily include your remote workers in an in-person meeting.
But what does this look like in practice? Let's explore some popular examples.
Conference Room Table Power Box Examples
As you shop for conference room table power solutions, you'll find a wide range of options available. Here are five examples of the more common power centers available, along with a few tips on how to use them effectively. 
1. Recessed Conference Table Box
If you want to optimize the available space on your conference table, then you need to look for a "recessed" option. This means the power solution is hidden or embedded within the table. These are also sometimes called "conference table troughs." How the power receptacles are hidden depends on the style you choose, such as:
– Sliding Door Design – Sliding doors can slide smoothly into place over the various receptacles when not in use. 
– Lid Design – Simply pull open the lid and plug into the receptacle you need to access. 
– Open and Flush Design – For quick and easy plug and play try an open design without a cover that is flush with the table surface.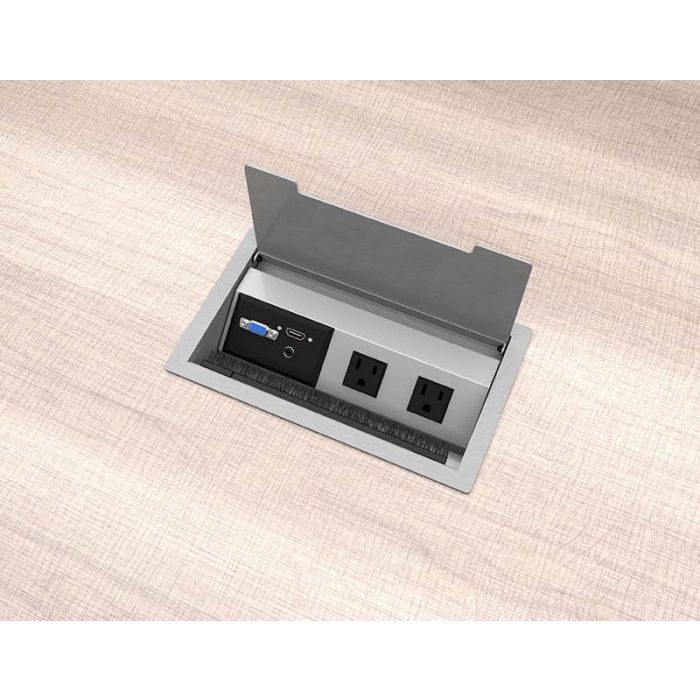 2. Conference Table Pop-Up Power Box
There's something sophisticated and subtle about a pop-up power box. It's another version of a recessed power box, but the mechanism to access it works differently. Simply press the top of the unit, and the box will pop up out of the table's surface. Users can plug in the power cords they need, then press the box back into the table when done.
A common model of pop-up socket consists of a rectangular box that rotates out when pressed, like the
Nacre Pop Up Power Center
pictured here. These could be placed in various positions around a conference table for individual use. Other alternatives host numerous power-data ports in the same socket, usually up to eight. If that's not enough, there are also 
double-sided versions
 to give you twice the receptacles, which work well for long, rectangular conference tables.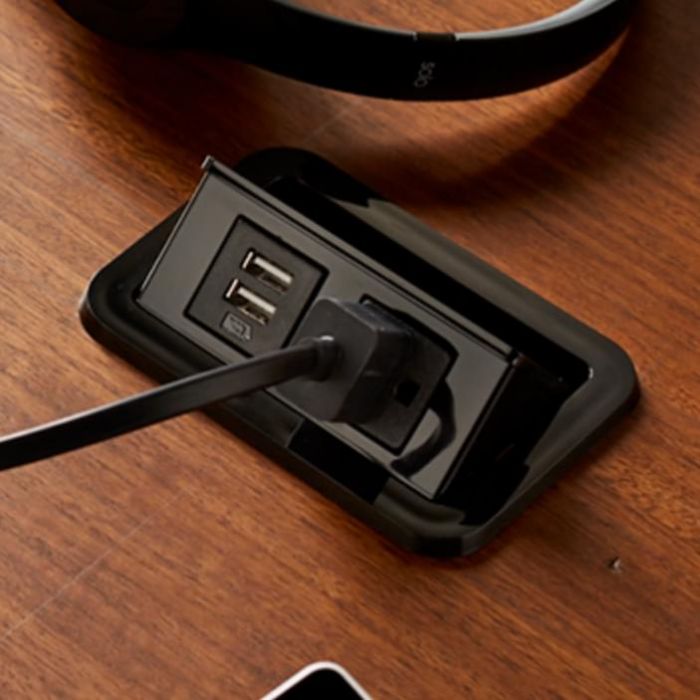 3. Under Table Power Box
If you want to keep your power solution completely off the table, then consider an under the table solution. Many are attracted to these because they don't require cutting any holes into a table. Yet even so, power options are right at your fingertips.
A typical under table power box will be screwed to the underside of the table near where the user sits. The receptacles are usually positioned to be flush with the table's edge.
For those who don't need access to power as frequently, consider a slide-out power data port option. These remain stowed away until needed. The user simply slides the power box towards them along a track, locking it into place at the edge of the table.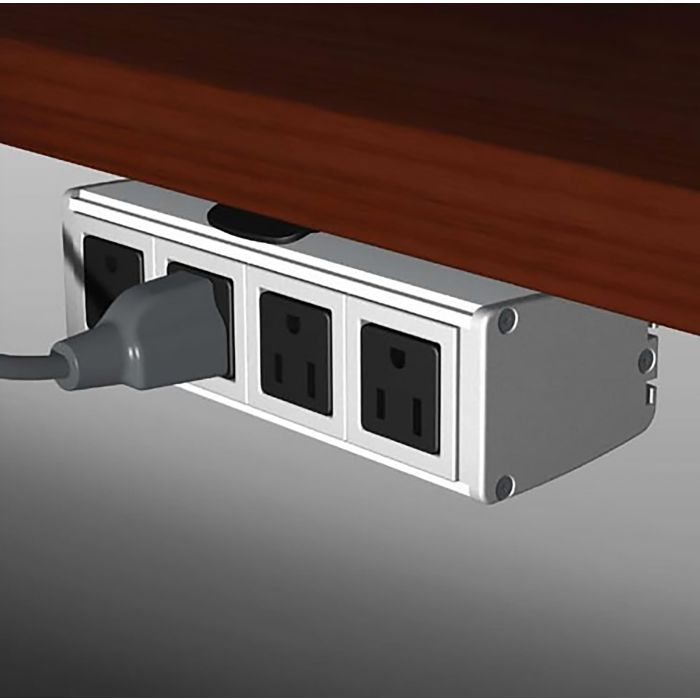 4. Conference Table Grommet
Another achievement in form and function of conference table power is the desk grommet. You likely see variations of grommets every day, like the grommets your shoelaces pass through or those atop a curtain holding it to the rod. Essentially, it's an edge strip or ring placed into a hole to reinforce and smooth the edges of that hole.
Grommets were originally included in desks and conference tables to allow wires and cables to pass through without getting snagged or cut on edges. Because of this, desk grommets are traditionally round.
Modern desk grommets are much more advanced, with built-in power receptacles, pop-up options, lid covers, and more. You can even get wireless charger grommets, allowing users to charge their smartphone or device simply by placing it on top of the grommet.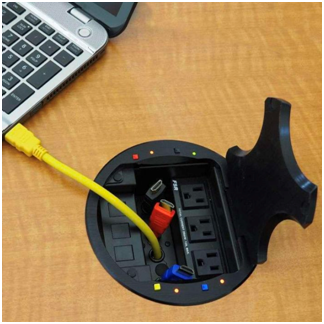 5. Portable Meeting Room Power Center
For true flexibility with your conference room power, consider a portable solution. This gives people the freedom to work and hold meetings wherever they like. There are many portable power options, from a basic table top box design to a power hub tower on wheels.
Portable power centers are especially useful for multi-purpose spaces. You can pull the power hubs to the center of a large conference table for a meeting or company-wide gathering. Outside of meetings, folks can take those power hubs off to various corners of the room to dive into their individual work.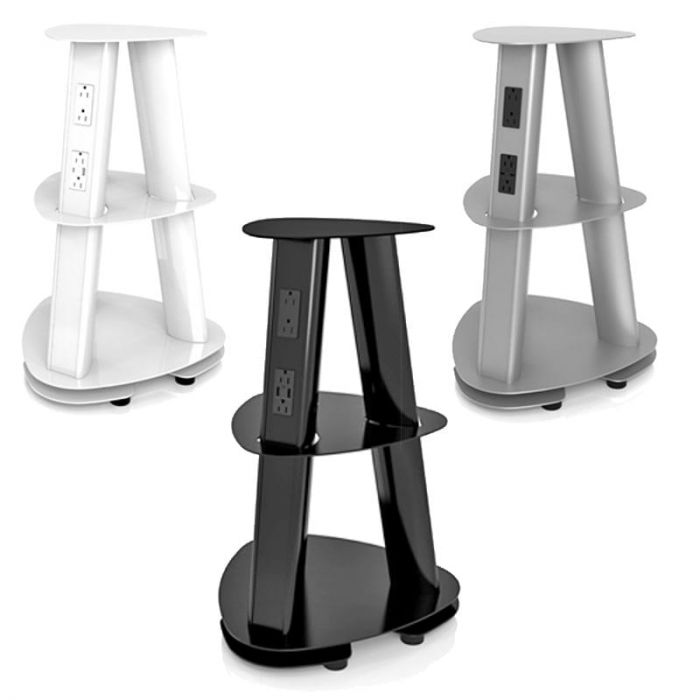 Conference Tables With Built-In Power Outlets
Looking for the whole package instead of a one-off power solution? Then you need a conference table with a built-in power center.
With the
SMARTdesks Design Team
, the possibilities are endless when it comes to customized conference tables and integrated technology. You can keep it sleek and simple to accommodate bring-your-own-device (BYOD) workers, or you can include computers and devices as part of the table. Here are a few creative solutions to give you some ideas.
Small Conference Table Power Ideas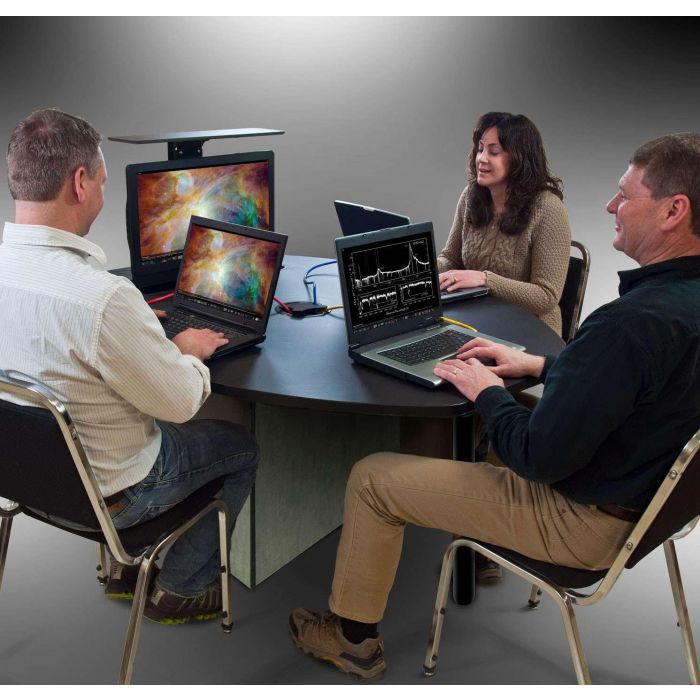 Don't let its small size fool you, as there is more to the Boost Collaborative Conference Table than initially meets the eye. Its elliptical design features a conference table power grommet right in the middle, giving everyone easy access to power. The base cabinet underneath houses any hardware, with two locking doors for protected access.
At one end of the table, you'll note the flipIT Motorless Monitor Lift. When hidden, the top panel blends in beautifully with the table to give you a completely flat surface. Simply press down on the top, and the monitor lifts smoothly out of the desk for presentations and collaboration. This is also an easy way to include any remote participants—it will almost feel like they're right there in the room.
Need a little more space around the table? Then the Piano Duet Conference Table might be a better choice for your space. This technology table can be built for 10 to 18 people to use comfortably. 
When it comes to power, this table takes it to the next level. Each user has their own integrated computer stations with flipIT Monitor Mounts. When you pull out on the under-table keyboard tray, the monitor gently swivels into an upright position. Additionally, the large technology well in the center can house a wide range of A/V and IT needs, including CPU storage and cable management.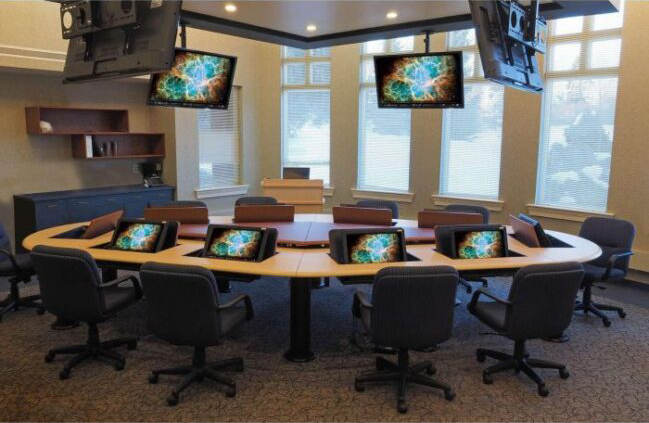 Large Conference Table Power Ideas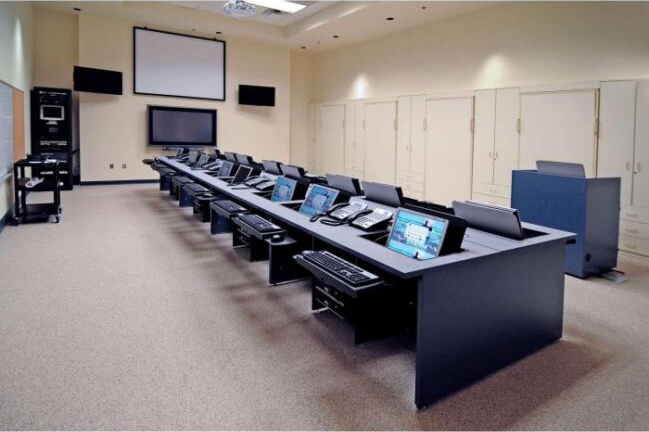 If you're hosting upwards of 20 or more people in your conference room, then you might want to consider modular conference table options. With modular workstations, you can rearrange them to suit the layout of your space and the needs of your team. And as your organization grows, simply add more modules to accommodate more people.
The way these Motif Computer Conference Modules are arranged is an excellent example of a highly customizable computer conference table. Users can access electric cables at any point along the table spine, which sits in the middle of the pictured example.
Maybe you'd like a more mobile option. The Pi Active Laptop and Computer Tables offer just that. These are first-rate solutions for conference rooms that demand flexibility. Each table can be wheeled into various configurations for individual work, small-group huddles, or large-scale collaborative efforts.
You can add CPU holders, laptop shelves, flipIT Monitor Mounts, and more to each module—whatever you need to create a perfect, technology-driven workspace.
While many of these options make cable and wire management easy at the table, you might still be wondering how the power centers themselves are powered. Is it all neat on the surface, but a tangled knot of wires underneath? Will cords be dangling from the table over to a wall outlet, ready to trip unsuspecting passersby?
Not at all—if you manage your cables and wires properly. The modern conference table with data ports and power demands innovative solutions for just that. Let's take a look.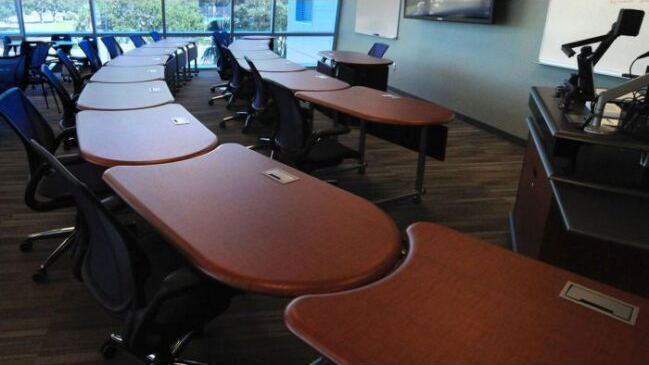 How Are Conference Tables Laid and Setup?
Conference tables can be laid out in various setups—boardroom style, U-shaped, classroom style, hollow square, and many more. With any of these layouts, cable and wire management can quickly become a disaster if not handled with care.
Thankfully, you can easily tackle this issue using combinations of cable and wire management solutions, like:
– Cable Canal Wire Managers – These mount to the underside of a table, with multiple channels to keep power and data cables separated and off the floor.
– Latch Duct Channels – Similar to canal managers, latch duct channels attach to the underside of a table. They are extremely popular due to their "invisible hinge" design, which allows you to effortlessly open and close the channel to add or remove wires.
– Sleeves – Sleeves are flexible conduits that gather around groupings of wires to keep them together. They can usually be cut to the exact size you need.
– Threshold/Floor Managers – The last thing you want is someone tripping over a cable and injuring themselves. A threshold/floor manager encloses wires within a flat casing, keeping the floor flat and your hardworking cables protected.
– Table Leg Chases – To make your wires and cables invisible running from your desktop to a power outlet, a table leg chase is just the thing. These guide wires down the table leg to the floor, so you're not constantly knocking your knees into dangling cables.
– Cable Clamps – If you need only a few wire guides along a path, then cable clamps should do the trick. You can find versions with screws, Velcro®, and adhesive to stick them wherever you need them.
While all of these solutions work beautifully to create a tidy conference room, the most comprehensive solution by far is using a raised floor system. SMARTflor, for example, is a high-quality raised floor system for integrating technology into your conference room.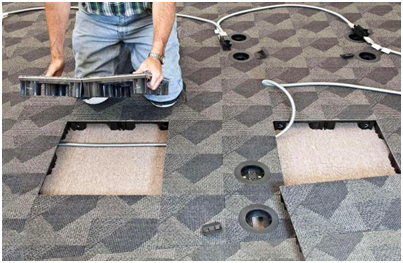 SMARTflor is based on 50 cm, ready-to-install carpet squares adhered to four pedestals (as pictured above). The pedestals lift the flooring off your existing floor, creating a network of channels beneath your feet for wires and cables to live. Outlets can be moved around as your space changes. It installs in hours, and no specialized labor or electrical contracting is required.
Ready to see what other solutions SMARTdesks has for your conference room? Check out our conference tables for sale, or pop over to our Integrated Design Services page to learn more about what we can do for you.