As more companies move to hybrid work environments, their work spaces have to accommodate a variety of work modes. Employees often do not have assigned office or desk spaces. They are often assigned hoteling workstations. Conference tables also are changing from static meeting locations to dynamic training and collaboration spaces in addition to their traditional uses for board meetings. Modular conference tables  offer an alternative that serves multiple needs in the ever changing work environment.
What Is a Conference Table in Modular Style?
A modular conference table takes a variety of shapes when the component modules or small tables are arranged together to accommodate the number of people in the group and the dimensions of the room. Not all modular conference tables come in one shape. The smaller pieces, for example, may be triangular, rectangular, trapezoidal, or even yin yang shaped. The different geometries of form allow you to create bigger conference tables of assorted configurations. Each one offers different functionalities and aesthetics to suit the purpose of the meeting and the room size.
How Do You Set Up a Conference Room With Modular Tables?
How you set up your conference room depends on your mission and purpose. With modular tables, you can rearrange the room setup to flexibly suit your needs. Some examples of what modular conference tables for your conference room include:
● Conference calls. Arrow-shaped conference tables work well for video conference calls. You can put screens and cameras at the open end of the table. Everyone in the room can see the screen, and those online can see everyone in the room.  SMARTdesks' Exchange Active Learning Tables provide a perfect example of one such table.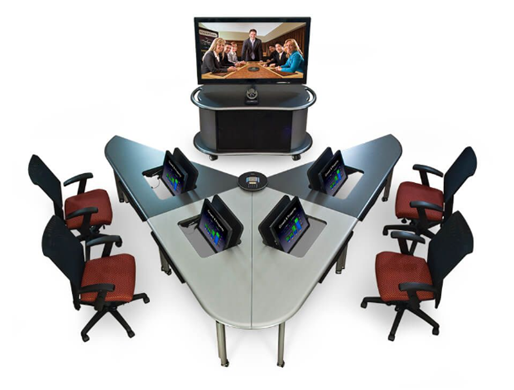 ● Presentations. When using a conference room for a presentation, you should use a modular table setup that draws attention to the presenter at the front of the room. Conference style setups and U-shaped style setups work well for presentations. What is a conference style setup? Several modular tables joined together to make one large conference. For example, the SMARTdesks Trapeza table units on casters assembled together in multiples creates a large conference table that can be reconfigured. The presenter should sit or stand at one of the shorter ends so that attention is drawn to them. With the U-shaped setup, the presenter should stand at the middle of the U-shape for the same effect. SMARTdesks also offers iGroup Active Learning Tables that can be pushed together into a variety of conference table geometries.
● Temporary Group Activities. Modular nesting conference tables are great for conference rooms where temporary training sessions, casual gatherings and collaboration sessions can be quickly set up or modified. The components can easily fold up and move to the side to allow for more space. SMARTdesks sells a few versions of our Modular Flip Top Conference Table that work the same way. Our NESTA™ Flip Top Tables for Laptops – Laminate also have a PVC edge to protect them against wear and tear in high traffic areas.
● Team-building activities. A rounds room setup works well for team-building activities. The room layout consists of several round tables organized for workflow in the room. Up to six people can sit at each table. This style promotes movement of people around the room and facilitates group collaboration. . iGroup Active Learning Tables and Exchange Active Learning Tables are pinwheel/hexagon round shapes which fulfill the mission of Team-building activities.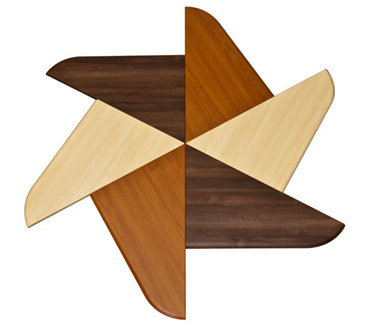 ● Planning sessions. If you and your team are brainstorming ideas for presentation or business decisions, a round table works well. There is no hierarchy at a round table. Each person has an equal opportunity to share their ideas. The Quark Mobile Standing Desk with Qstar5 Docking Station works well for these sessions.
Design Modular Commercial Conference Tables With SMARTdesks
SMARTdesks will collaborate with your team to configure, design and build the modular conference table to uniquely actualize your vision. IT integration of power and data as required by your audio visual and conferencing needs are fully reviewed and implemented in our design process. SMARTdesks works with all your stakeholders to bring their needs to the form and function of the modular conference tables. From Concept to Reality,  SMARTdesks works for you and with you.