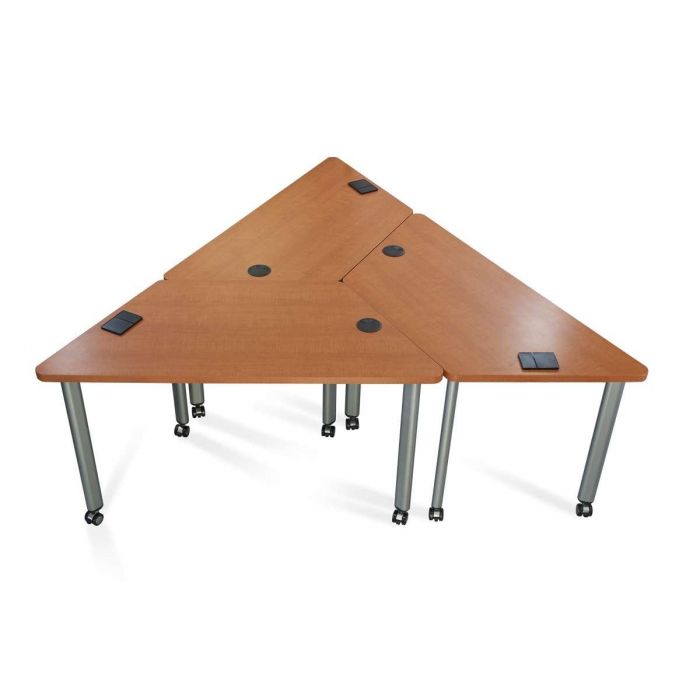 How Can You Set Up Modular Tables?
Think about the last time you were in a meeting. Were you tripping over a mess of cords leading to a central table? Did you have to strain your neck while turning to face the presenter? Did technology issues interrupt your focus? If so, you're like most employees who are struggling to make the most of outdated meeting spaces.
Your meeting space should enhance connection and focus, not work against it. Ergonomic conference tables with integrated power and data make it easy for your team to:
● Connect face-to-face and with remote teams
● Share ideas in real-time
● Stay focused on projects, not technology issues
SMARTdesks began the journey of building tables integrated with technology in 1997. Today, the need for tech-enabled collaborative spaces has never been more urgent. As technology evolves in a post-Covid time, so must the spaces where people use it. This is especially important, considering how prevalent hybrid meetings are, and that:
● Up to 90% of companies will need to conduct hybrid meetings
● 49% of college students prefer hybrid courses compared to only in-person instruction.
Meeting spaces must keep up with the way people interact.
With SMART modular conference tables, you can use the same space to accommodate shifting needs—without sacrificing access to the power and data that today's meetings need to function. This article will cover the different uses of SMART modular conference tables.
What Are SMART Modular Conference Tables?
Modular conference tables are tables that you can disconnect, rearrange, and set up in different configurations within your meeting space. SMART modular conference tables include the added benefit of built-in technology that enables:
● Presentations
● Hybrid meetings
● Collaboration using digital tools
SMART modular tables often include some or all of the following technology:
● Power ports and strips so your team doesn't have to trip over wires or search for a power connection
● Data units that make connectivity easy, such as connecting to a monitor through an HDMI port
● Integrated monitors for quick computer access
Which Spaces Are SMART Modular Tables Best In?
SMART modular tables can make professional and educational spaces more productive and engaging. To see how they can transform your space, let's take a look at an example of a SMART modular table, its features, and how you can set it up in your space.
Motif Computer Conference Modules Featuring flipIT
The Motif Computer Conference Modules Featuring flipIT offers customizable arrangements and high-tech utility. Organizational and SMART features include:
● Monitors that flip up and fold down for on-demand access and easy storage
● Access points for data and power along the entirety of the table spine
● Hidden compartments to keep wires and cables out of view and protected from damage
● Keyboard platforms that slide out to cut clutter
● Locking keyboards to improve equipment and data security
● CPU bays to accommodate tower CPU cases up to 10 inches wide
You can arrange this SMART modular conference table in a variety of configurations, including: U-shape, face-to-face, and open-ended arrangements.
Conference Rooms
Businesses use conference rooms for teams to work together on important projects, give presentations to employees, or pitch ideas to external stakeholders. The last thing you want is for technology issues to hold things up and distract your audience. The room's layout can also be disruptive and take away from your presenter.
For a collaborative workspace, a face-to-face arrangement encourages communication and sharing notes. During hybrid meetings, a U-shaped configuration allows each in-person member to easily view the monitor where remote attendees are tuning in from and vice versa.
A U-shaped arrangement is also ideal for presentations, where attendees focus on one spot for the majority of the meeting.
Browse SMARTdesks' tech-enabled conference tables and podiums for ideas on how to enhance your conference rooms.
Smart Offices
Employees perform their best when they have access to the right tools. Balancing the needs of 100% in-person employees with hybrid employees can get challenging. SMART modular tables make it easier for your team to be productive, no matter how they work best.
For office spaces, face-to-face configurations give flexibility in where and how employees set up their workspace. This makes it easier for your team to transition between independent and team projects.
Complete your smart office with SMART modular tables and standing desks.
Learning Spaces
Classrooms see a lot of layout changes. Some classes benefit from setting up desks in rows that all face the same direction (open-ended). Others prefer having each student facing the center of the room (U-shaped). And still, others work best when students sit in small clusters (face-to-face). Each of these situations need a connection to both power and data. That's what SMART modular tables provide along with the ability to rearrange the classroom as needed.
Explore SMARTdesks' seminar and computer tables to optimize your classroom, computer lab, or library.
SMARTdesks: Combining Flexibility with Functionality
When you innovate your productive space—whether it's a conference room, an office, or a classroom—you want to get it right. Modular tables from SMARTdesks help you transform the way you work with:
● All the tech components to power your meetings and ideas
● The flexibility to tailor your space to different uses as needed
Ready for a change but not sure where to start or have an idea in mind and ready to make it a reality? Fill out a design request form to get started.