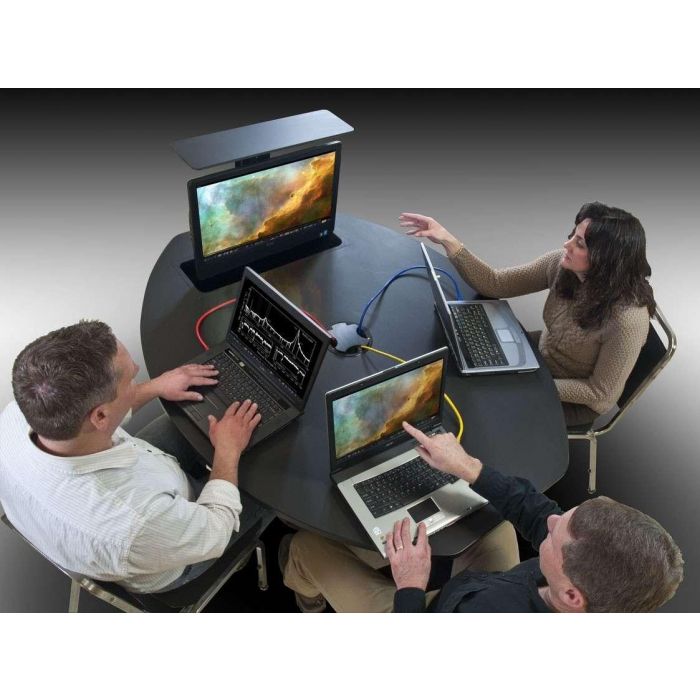 Hybrid Meeting Room Setup
Three out of five organizations anticipate at least one hybrid meeting during 2022. Hybrid meetings include both attendees who can be in-person at the conference tables and remote participants. How does an event planner or manager set up a hybrid meeting room to provide an excellent experience to both groups? Technology and furniture each play a pivotal role.
How Are Hybrid Meetings Organized?
Hybrid meetings are organized based on who needs to attend, the necessary equipment and technology, and the goals for the conversation.
● Hybrid Meeting Attendance: At the time of the meeting, those who plan to be present will arrive in the meeting room. Those who do not will log in to a virtual meeting platform like Zoom, Microsoft Teams, or Google Meet to share their video and audio.
● Hybrid Meeting Equipment: One piece of essential equipment needed for a hybrid meeting is a screen or monitor. The screen is where remote attendees see any visual content. Depending on the room's setup, virtual attendees may be on or off camera. If they are on camera, their video feeds may be visible on the same screen. It's also necessary to have a microphone in the conference room so virtual attendees can hear and speak.
● Hybrid Meeting Agenda and Etiquette: Send an agenda outlining the topics for discussion. You can also include the time allotted to discuss each subject. All participants can refer to this guide to time their questions and keep the meeting on track. It's common to ask all remote attendees to mute their mics. They can use notification functions like the hand raise feature or chat when they want to share a point or ask to speak. Designating one person to lead the conversation can help hybrid meetings run smoothly.
How Do You Hold a Successful Hybrid Meeting?
Holding a successful hybrid meeting requires a balance of technical proficiency, careful moderation, and strategic engagement of the attendees. Follow this checklist to get off to a great start.
Hybrid Meeting Checklist
● If possible, admit virtual attendees to the event when in-person attendees arrive, not after the conversation has started between those in person.
● Take attendance to make sure all essential attendees are present.
● Do an audio and video check to ensure everyone can see and hear each other.
● Start with a question or icebreaker to give everyone in the meeting a chance to get involved and feel heard.
● Use one or more conference tables so everyone attending in person can see the virtual attendees and vice versa. More on how we can help with this later!
● Remote attendees can access any necessary slides, handouts, or other materials.
● Consider the comfort of both remote and in-person attendees.
● Ask for feedback after the meeting to learn how to improve for next time.
How Do You Make Hybrid Meetings Better?
Making hybrid meetings better could be as simple as changing the room setup or meeting structure. How do hybrid meetings work? It differs depending on the reason for gathering attendees together, but there are ways to optimize each. Here are some simple tips to improve hybrid meetings by setting up the room based on their purpose.
Hybrid Meetings Best Practices for Setup
1. Hybrid Brainstorming Meeting Setup
In a brainstorming meeting, the goal is discussion and collaboration to solve a problem or develop ideas. Eye contact and awareness of everyone's nonverbal cues are essential, even across distances. A small conference table like the Boost Conference Table comes with a flipIT monitor lift built-in. This table makes it incredibly simple to connect virtual collaborators with those who are together in person. Everyone can share and get excited!
2. Hybrid Discussion Meeting Setup
A discussion meeting starts with a presentation or summary on a topic. A discussion of the learning or problem then follows. Attendees listen for the first part of the meeting and participate for the second. Furniture like the SMARTdesks Piano Solo Conference Table allows in-person attendees to hide their monitors within the table during the presentation and open them when needed. The table allows maximum engagement with the topic of discussion while keeping necessary information a click away.
3. Hybrid Presentation Meeting Setup
Giving a hybrid presentation means engaging with in-person and remote attendees. Furniture like the DownView Glass Top Multimedia Podium looks like a traditional podium to those in the room. Meanwhile, the presenter can see a monitor with the virtual meeting chat and attendees. This view puts the presenter entirely in control of an excellent experience for all audience members. As part of the setup, you can mark an area for the presenter so they know where in the room they are visible to the virtual attendees.
Trust SMARTdesks For Hybrid Meeting Solutions
Whether you're hosting a hybrid meeting for four people, forty people, or both groups on the same day, SMARTdesks provides the flexible backdrop you need to connect and stay productive. Explore our full line of furniture for hybrid meeting spaces to see what we have done for others. Each of our pieces is built-to-order, and we even offer design consultation if you want something custom to meet your needs. Schedule your free consultation today!