Conference Room Solutions

Modern conference rooms need something more than a table and chairs. SMARTdesks®, an industry leader in innovative technology furniture, can help you create a sophisticated meeting space that gives your users optimal technology access and comfort.
Computer Conference Room Tables
The days of a conference room simply being a place for people to gather around a table are long over. Even having a screen and a projector handy don't cut it. Modern businesses need to provide easy computer access to users who may not have a laptop on hand. Issues with A/V and multimedia may also be in play.
To address these challenging requirements, SMARTdesks® has responded with innovative conference room furniture engineered to provide your organization with a quality meeting space.
When you go with SMARTdesks®, you go with an industry veteran. In business for more than 20 years, SMARTdesks® has worked with a range of Fortune 500 companies, colleges and universities, including:
Chevron
Virgin Mobile
Boeing
Bombardier
Kansas State University
Johnson & Johnson
Whether you're remodeling an existing space or building a new conference room from scratch, our involvement in countless projects can make the difference when trying to get a project completed with minimal hassle.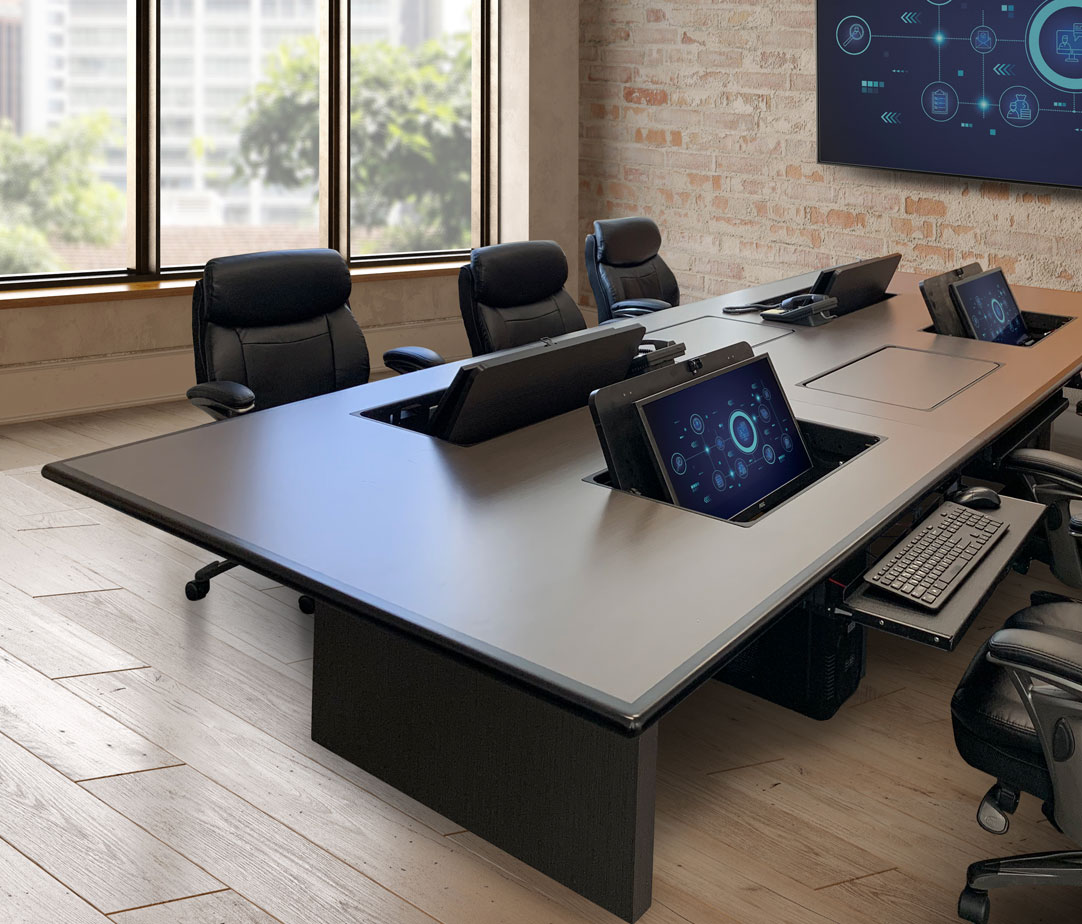 Computer Conference Room Furniture Solutions
The 21st century conference room must offer more than just a place to sit and talk. Today's conference room needs to create a multimedia experience, giving users easy computer access without monitors and cables constantly being in the way. And companies looking to project a certain image want their flagship conference rooms to present true quality and sophistication.
You can't achieve the conference room of today with yesterday's furniture. SMARTdesks® has drawn from more than two decades of experience to develop a range of furniture solutions to suit the needs of today's computer labs.
Our Piano line of computer conference room tables integrate your computer equipment while allowing maximum eye-to-eye visibility among all users. Available in configurations ranging from five seats to as many as 18.
For a conservative approach, the Piatto looks like a conventional rectangular conference table, but it's hiding a secret: individual computer access available to all users.
For smaller spaces, the Collab offers space for up to six users at a time, giving you a way to create an atmosphere for small group collaboration.
The Vista80 and the Boost were built for small groups looking to access a common digital display. Install the flat screen digital display of your choice to allow your users to focus together on a single visual reference point.
Many of our conference table solutions can support our patented flipIT® computer technology. This durable solution allows your users to access a computer on an as-needed basis, keeping it out of the way for those important face-to-face interactions..
Customized Conference Room Furniture
A true conference room furniture solution is more than the sum of its parts. Over the years, we've found that the very best conference rooms require some level of customization, so our product line can be modified around your specific requirements. Choose from an array of custom options, ranging from technical features to a wide selection of quality finishes. And we have a range of accessories, including quality seating solutions, power & data components, credenzas, cabinets and more, for a complete solution that will fit your needs while staying within your budget.