Military

Comparable to the private sector, the military has a range of needs related to training, communications and leadership. These can involve literal life-and-death situations, and the military is also subject to a host of issues that the private sector doesn't face. These issues include compliance to federal law, armed services regulation and IT security. SMARTdesks® is a leading provider of technology furniture, is ready to serve the armed services with a line of innovative furniture solutions built to meet the needs of our men and women in uniform.
Military Computer Desks & Training Furniture
The military has a range of ongoing training needs at numerous levels, involving enlisted soldiers and officers alike. Additionally, military briefings can involve various requirements, including access to multimedia, audio/video conferencing, security issues and much more.
Bottom line: off-the-shelf furniture simply won't fit the needs of the military. SMARTdesks®, an industry leader in innovative technology furniture solutions, has responded with a versatile product line built for quality ergonomic educational desks and conference table solutions which incorporate the latest technologies.
SMARTdesks® can bring a wealth of experience to any project. In business for more than two decades, we have worked with numerous branches of the armed services, including:
U.S. Army
U.S. Navy
U.S. Air Force
U.S. Coast Guard
California Army National Guard
Georgia Army National Guard
South Carolina Army National Guard
Ohio National Guard
We've worked with other government agencies, universities and Fortune 500 companies worldwide. Our wide range of experience can help you complete a project on time and within budget.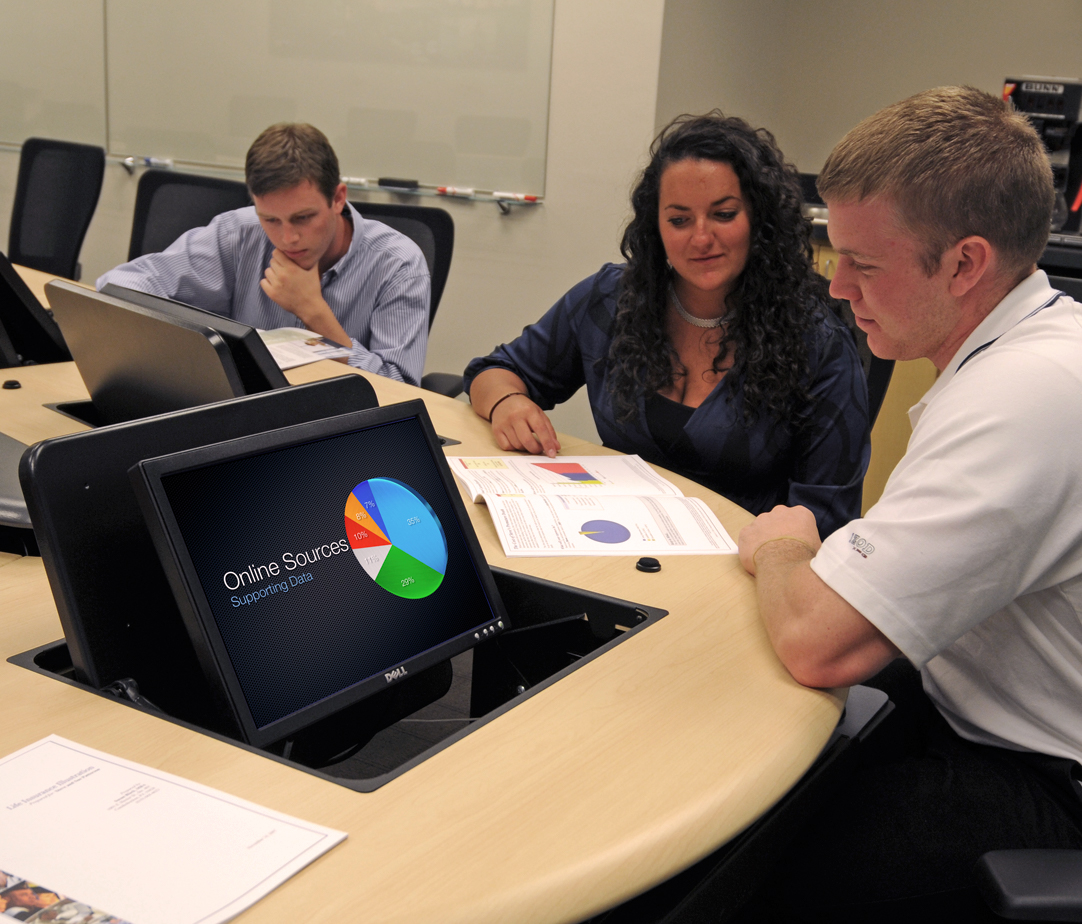 Custom Military Furniture Supplier
Our computer desks & training furniture, popular in top universities and Fortune 500 companies worldwide, are also proven solutions for the military.
Military training can have any range of fluctuating requirements, ranging from groups of different sizes, a range of different class layouts, and periodic (but not consistent) need for computer access.
Military briefings can involve roundtable discussions, planning for upcoming operations, and discussions with a range of civilian and military personnel. The need for technology access, including individual computer screens, widescreen digital displays, A/V access and more is also needed.
Standard tables and desks simply won't fit the needs of the modern military; therefore SMARTdesks® has stepped in with a product line built to offer the highest level of technology integration for quality, comfort and style. Our reliable, innovative suite of computer desks, library furniture and education solutions can offer your soldiers and officers a 21st century training and briefing facility.
The Exchange, iGroup and Trapeza can help any space offer outstanding versatility. Whether your instructors need a conventional classroom floor plan or small group layout, rearrange a room to fit your needs from one training session to the next.
The Piano conference table offers exceptional technology integration around a sophisticated meeting space. Available in a range of sizes for a unique conference room experience.
The Piatto looks like a conventional conference table, but offers full integration with your computer equipment for on-demand computer access.
These and other products in the SMARTdesks® lineup can make use of our patented flipIT® multi use computer mounting hardware. Your users will have computer access on their terms, flipping open the desk surface when the computer is needed, and stowing it back underneath when not in use.
Customizable Military Furniture Solutions
Every project has unique requirements that an out-of-the-box solution frequently can't address. So SMARTdesks® has designed all of its products for easy modification. Customize your desks or tables around your particular project with a wide range of options, including technical features and artistic finishes. And we also carry a range of accessories, such as quality seating solutions, A/V cabinets, podiums, power & data components, raised FFIT® flooring for power and data distribution.
SMARTdesks® is a unique source for a complete furniture solution customized to fit your specific needs.