Collaborative furniture plays a significant role in designing classroom layouts for effective learning. When classrooms are flexible, they better serve teachers and students alike. In fact, many studies have shown that flexible spaces significantly improve learning outcomes and foster equitable engagement in all learning environments. The true power of flexible classrooms lies in their ability to help educators accommodate each student's specific learning style. They also offer students a say in how their space is organized, which gives them a sense of control in their environment and fosters more active engagement in the classroom. 
This blog will address questions about flexible classrooms, including:
     ●  What are the advantages of flexible educational environments? 
     ●  How do educators make a classroom flexible? 
     ● What does flexible and collaborative furniture look like? 
What Is the Advantage of a Flexible Classroom and Collaborative Furniture?
Creating a collaborative and flexible classroom layout has many benefits. Some of these benefits include: 
● Encouraging Energetic Students to Focus: Energetic students often struggle to sit still. However, forcing students to remain at a desk for long periods of        time hinders their ability to learn. Implementing seating arrangements with standing options eliminates this problem in nearly all use cases. A solution like  SMARTdesk's Quark2 Mobile Standing Desk and Qstar2 Collaborative Conference Table provides adjustable seating so students choose what's best for them.
● Accommodating Individual and Group Work: Many classrooms are quite cramped with students and furniture, which makes group work difficult to organize. Crammed spaces also hinder students' productivity. Modular solutions like our Trapeza Collaborative Learning Table solve these issues. Additionally, the Trapeza's flexible design makes it easy to transition from individual to group work. 
● Making Technology More Collaborative: Technology is a valuable tool in all educational environments. However, forcing students to sit in rows and stare at a single screen is not conducive to collaborative learning. To remedy this issue, our Exchange Active Learning Classroom Technology Furniture enables students to engage with screens in small groups. With multiple configurations, this solution is easily rearranged from individual workstations to a rectangle for side-by-side collaboration. 
● Improve Hands-On Learning Opportunities: Lessons that involve specialized technology are difficult to teach in a traditional classroom setting. By integrating computer lab desks with the technology students need to experience helps them grasp complex processes quickly, which is especially beneficial for mechanical engineering and other fields that require students to use various unique devices. To accommodate other technological integrations, any of our active learning options also integrate SMARTdesks' flipIT monitor mount or Laptop Safe for simple on-demand computer access.
Explore Additional Collaborative Furniture Options
Discover how SMARTdesks enhance your classroom's flexibility with our collaborative furniture, portable power, and raised floor systems.   
What Is an Example of Flexibility in the Classroom?
There are many examples of flexible educational interiors. For example, SMARTdesks recently completed a project for Texas A&M University, where our various flexible furniture solutions were utilized to improve the adaptability of A&M's library space.
The Problem
The library annex space required a flexible design to accommodate a diverse array of needs for their active learning space. Implementing ergonomic and modular seating solutions was absolutely critical. However, the original room was extremely rigid and did not allow furniture or power supply receptacles to be rearranged. 
The SMARTdesk Difference
Using the Exchange® Active Learning furniture from SMARTdesks, Texas A&M created several flexible and collaborative workspaces. Because furniture is inherently immobile, the annex space also needed a flexible raised floor system to accommodate reconfiguration. Our raised access SMARTflor® solution enabled power and data receptacles to be repositioned without intervention from electricians or core drilling. If annex instructors need pod arrangements for tables, outlets have the ability to be reconfigured to accommodate various seating arrangements.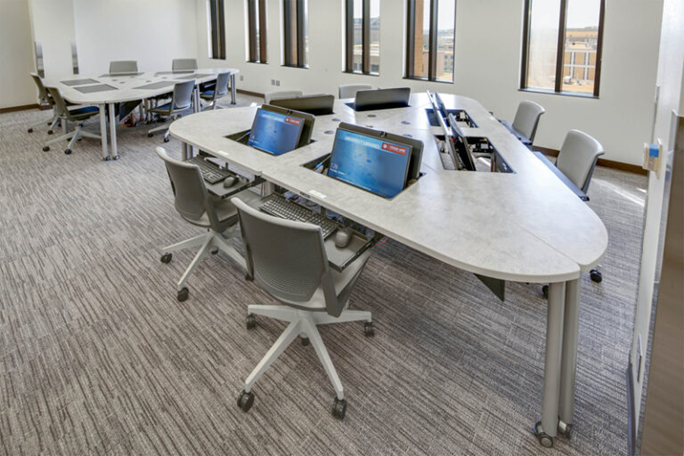 Better Serve Your Students With SMARTdesks
When creating a flexible classroom, many educational institutions struggle with acquiring adjustable seating and surfaces for students. SMARTdesks has created a solution. We have made it our mission to create furniture for collaborative spaces. All of our flexible classroom furniture is designed with accessibility, equity, and engagement in mind. We collaborate with various educational institutions to build customized furniture pieces that meet unique needs. All of our furniture is made to order in the USA—ensuring high-quality and durable craftsmanship.
Ready to transform your classroom? Start designing today!