University of Notre Dame, Mendoza College of Business: This collaboration space began with flipIT®
This 70-seat data Visualization Center uses flipIT® Concealed Monitor Mounts in SMARTdesks® Piatto Collaboration Tables
Nick Page, Ed Technology IT for University of Notre Dame's Mendoza College of Business said that he started searching for a way to open sight lines in their active learning space that demanded lots of screen real estate. A demo showed the team that the all-inones placed into the desktops with flipIT® accomplished both open sight lines and multi-use flexibility.
The next task: collaboration with interior designers and AV and IT integrators. With simplicity and ease of use as keys, a plan began to deliver a space where function leads form, so people are focused on what they are doing, and not getting distracted by how to get it done.
In this space, sixty-six all-in-ones and four BYOD workstation can be working in groups, or be working as one activity. The professor can select any of the workstations for viewing on all screens. In full breakout, twenty-four different things can be going on at the same time with screen sharing in full control by the groups.
The SMARTdesks® Piatto™ conference table system was customized in every detail to deliver the experience.
Eleven Piatto conference tables were customized for AV, technology, software, and power/data distribution, providing ease of use for full breakout, small groups, video conferencing, ad hoc collaboration and professor-led presentations.
"We wanted students to focus on the 'what,' not the 'how.' The technology and software choices meld with the furniture and interior design for a superior user experience. We couldn't be more pleased."
-Nick Page, Educational Technology IT Manager, University of Notre Dame, Mendoza College of Business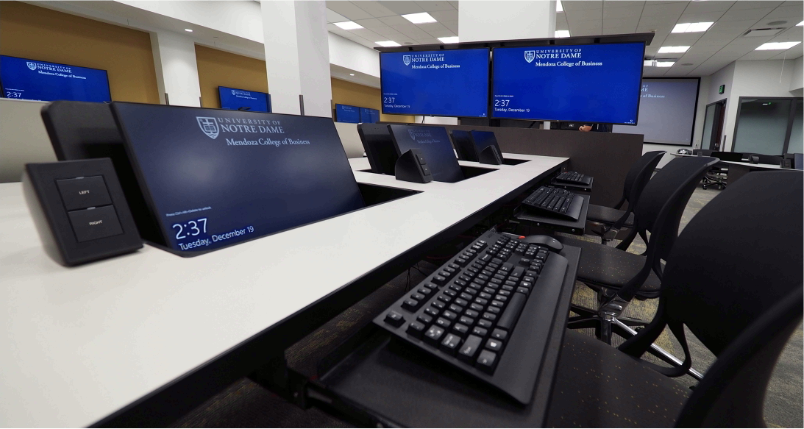 How do you provide users with next-generation data visualization and first-class collaborative computer access in a single space? One university figures out a way.
The Department of IT Analytics Operations in University of Notre Dame's Mendoza College of Business was faced with a real dilemma. With the explosion of data analytics, professors needed access to the latest data visualization solutions, which meant big projectors and widescreen video displays. But with limited real estate and IT budgets, having a single room dedicated exclusively to data analytics instruction was simply not feasible. The room also needed to be flexible enough for small group meetings and collaboration. Most of all, the technology needed to be intuitive and fully integrated throughout the space
The project started with heavy collaboration in mind. Rather than have A/V staff, IT professionals and interior designers working in silos, team members communicated as closely as possible to make sure that everyone was on the same page.
Flexibility was designed into the space from the ground up. The 66-seat space contains all-in-one PCs mounted into the desktops, along with 22 large-scale video displays and eight high-definition laser projectors. When not used for class, the space is available for use as a digital commons with a total of 11 huddle spaces (six seats per table).
Simply using off-the-shelf computer desks would not do for such a unique project. The collaboration team engaged with SMARTdesks for a heavily customized solution. "We didn't have any issues at all, because every detail was considered and matched—nothing was left to chance," said SMARTdesks CEO Jeffrey Korber. "There was collaboration through the entire process. It wasn't, 'Here's a product. Take it or leave it.' We made any modifications they wanted to have done without any resistance and satisfied all of their issues."
Even with so many widescreen video displays, giving each student clear line of sight to a video display from any seat in the room was a challenge. Putting the all-in-ones on monitor stands would create unacceptable visual obstructions. Monitor arms would create even more visual noise. Mounting the displays below was not practical on a number of levels: glare from overhead lighting, distance from eye to display screen, and ergonomics. The answer came in the form of the flipIT from SMARTdesks: it permitted the user to rotate the all-in-one into position when needed, and stow it underneath the desktop when not in use. It had the added bonus of allowing full access to the desk surface for BYOD options.
As difficult as it was to sort out the hardware and ergonomics, the collaboration team was really put through its paces overcoming the A/V and technical access requirements. When used for data visualization lectures, the professor needed to be able to present visuals from an AV podium to every screen in the room. Conversely, the professor needed to also be able to select any student screen in the room to share at will. When not used for lectures, the individual tables needed to support easy small group engagement. And all technology interfaces had to be highly intuitive and support BYOD options for both the professor and students.
Each table has an A/V rack for power and data, and three stations down the middle of the space include pop-up TV screens. "We were going for a multi-faceted approach," said Nick Page, Ed Tech Manager for the Mendoza College of Business at the University of Notre Dame. "The user doesn't have to use the computer one-on-one, and the screen can just be flipped out of the way. A person can use a laptop, a poster board, or whatever. You can do individual work or scale up and do group work. Work during lab hours, where the professor doesn't have to have the whole system turned on. People can just come in, ad hoc, to a collaboration session. We also have the ability to go wireless in this room. You can do the whole classroom experience: the professor can present, or make the experience small group collaborative and pick and choose different individuals' machines from around the room. We put in every option we could, budget allowing."
To avoid information overload, technical training for use of the room is based on answering questions rather than provide full training sessions. Many professors have been pleasantly surprised at the level of sophistication available in the space, but as Nick Page explained, "Our philosophy is to give a professor what he or she needs to know to use the room, rather than teach a ton of stuff they'll never use."
It took a tremendous level of collaboration and communication among multiple teams, but the end result is a meeting space that is sophisticated, intuitive and flexible, built to help students embrace 21st century data analytics.
Piatto Custom Conference Tables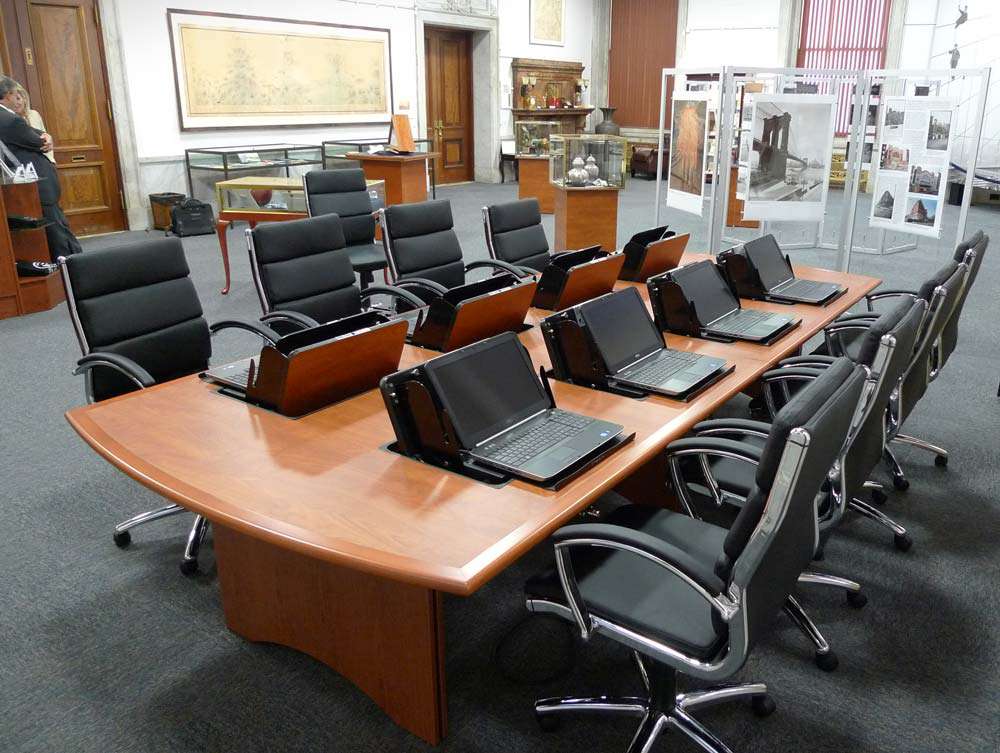 Piatto is a versatile table that can be built for 6 to 30 people. Available with PVC edge or real wood edge in countless finishes to suit any look, feel, and budget.
flipIT Monitor Mounting Kits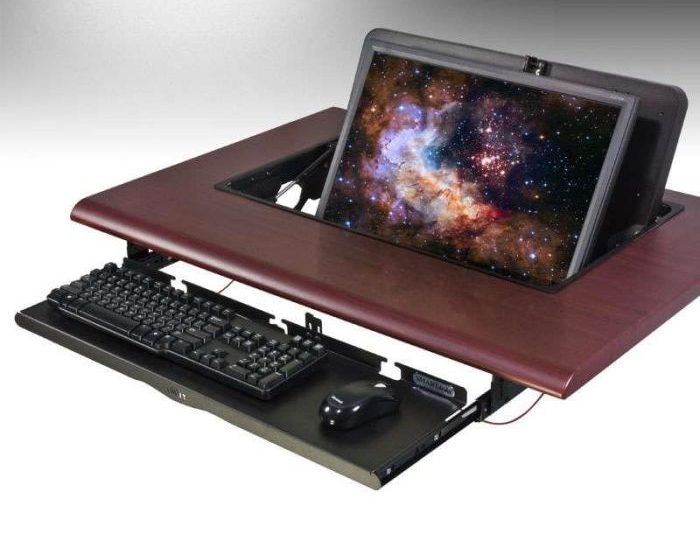 The SMARTdesks patented flipIT Monitor Mounting Kit is compatible with existing desktops as a retrofit kit. Revitalize your space while keeping your existing furniture!