According to this Esselte study, in 2004, 48% of American executives admitted to having a messy desk but claimed to know where everything was. In contrast, 12% said that although their desk appears organized, they had no idea where anything was. Ten years later, the problem persists; with increasing distractions from Facebook, online shopping, and smartphones, it's even harder to keep everything organized.
Today let's take a look at some efficient ways to organize your desk. Undoubtedly you have to balance an unwieldy assortment of papers and folders alongside either laptops or desktop computer monitors. That's not to mention sticky notes, tape dispensers, staplers, pens, business card holders, empty Starbucks cups, the list goes on and on…Here are three quidk tips on how to manage your workspace.
1. Eliminate clutter on a regular basis. Anything that you aren't using, either file or recycle if you can. When you approach your desk, you want to keep your space and mind cleared of extraneous objects.
2. Invest in a simple desk organization system. Nothing is more frustrating than shuffling through crumpled letters and dead pens. Keep a simple pen cup for your writing implements, and perhaps a wire holder for letters and papers for immediate follow-up. File more long-term projects for later access.
3. Keep your technology separated from papers and other unrelated items. Make sure to separate your laptops, tablets, keyboards, and other technological paraphernalia from file folders and other "old school" items. You can use laptop stands and tablet stands to keep more mobile pieces of hardware off your desk surface. It'll help keep you focused and on task when you're having "tech time" and when you're having "paper time."
SMARTdesks can help you organize your laptop computer arrangement with our LaptopSafe station! And for when your on the go, there's no better multi-use laptop case/laptop holder than the Higher Ground Gear cases.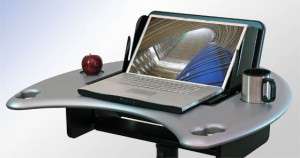 In your opinion…what are some of your favorite desk organization methods and laptop holders?