Learning in the classroom and office takes place in an increasingly mobile world. Tablets are by far the leading trend in technology for the modern classroom, but laptops are also popular in schools across the country, such as in the Miami-Dade district, according to the Miami Herald. The trend is international; in Kenya, the government will spend Sh24 billion on laptops for primary schools in the first quarter of 2014, according to AllAfrica.com.
More laptops in schools, though means a greater need for security in the form of mobile laptop carts that stow and lock away the computers when technology isn't needed. Mobile laptop carts frequently offer the capacity to charge and store computers and minimize the risk of theft and vandalization. This study from the University of Michigan shows that in Winter 2010, over 50% of 1,415 student sample brought their laptops to class at least once per week. And for an interesting look at mobile phone and tablet usage in the classroom, click here for an Atelier.net article.
Personally, I wonder if in an increasingly "bring your own device" (BYOD) world that the the need for mobile laptop carts will soon be restricted to students too young too carry their own devices.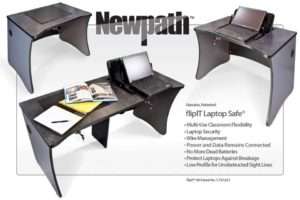 In your opinion…Do you prefer using a laptop or a desktop computer?